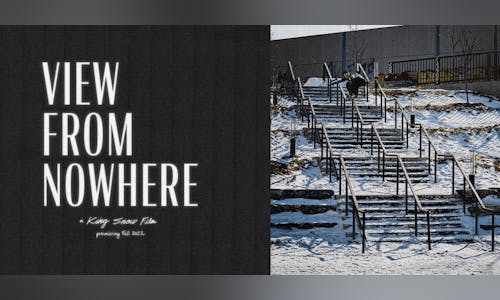 KING SNOW presents VIEW FROM NOWHERE Calgary Premiere!
Oct 20, 2022
7:00 PM – 12:00 AM MDT
Royal Canadian Legion Branch 1, 7 Avenue Southeast, Calgary, AB, Canada
Organized by KING SNOW
Share on
Come out and watch the world premiere of King Snow's latest film VIEW FROM NOWHERE! The view from nowhere belongs to no one. It's detached from singular experience yet inexplicably connected. This name rang true this past winter when the stars aligned and brought together an epic cast of Canadian riders that spanned our entire nation. We all may be looking at the same thing, but we see it differently.
Starring: ︎ Stefan' Taco' Alvarez, Frank Bélanger, Phil Couture, Manu Calvo, Phil Carpentier, Tanner Davidson, Taylor Davies, Quin Ellul, Conner Felix, Austin Johnson, Seb Picard, David Tourigny, Finn Westbury, Jake Whitburn, Gregor Zed
Filmed by: Ulysse Dubé Burelle, Gab Lariviére, JJ Westbury, Matt Bryson
Edited by: Finn Westbury
Supported by: ︎ Nitro, Vans, Ride, Empire, Salomon, Rude Boys, Jack Links
All the content is user generated, if you think this event is suspicious, please Report Event.