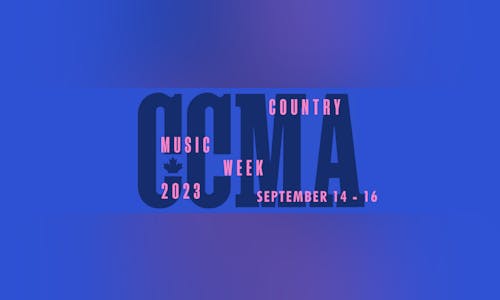 CCMA Seminar Series
Sep 14, 2023
11:45 AM – 1:30 PM EDT
Hamilton Convention Centre by Carmen's, Summers Lane, Hamilton, ON, Canada
Share on
CCMA Seminar Series are back! Each seminar is intentionally crafted and expertly assembled with the goal of offering insight and thoughtful perspectives, sparking innovative discussion with the panel of experts involved. Thus giving attendees an opportunity to encounter new and emerging ideas, discover unexplored interests and network with industry professionals within country music and the industry at large.
Come be inspired, increase your knowledge and join the conversation.
Seminar 1: Women In Production & Songwriting presented by Music Publishers Canada
Canadian producers and songwriters have made their way into high level writing rooms around the world and are making their names known. What are best practices for bringing your 'A' game to a co-writing session and how do you communicate effectively with your producer? This panel will discuss their process, their gear, and their community.
Moderator: Melissa Cameron-Passley - Kilometer Music Group
Panelists: Karen Kosowski - Producer Kelly Archer - Songwriter Meghan Patrick - Artist/Songwriter
Seminar 2: Country Music: Past, Present, Future
Exploring the deep roots of Country Music, the inspiration behind today's country artists and how country music's sound will evolve into tomorrow.
Delving into the history of a uniquely created art form: Country Music. From its deep and tangled roots in ballads, blues and hymns performed in small settings, to its current worldwide popularity. Country music is a genre loved by many, and can be found in the most unexpected places. Ode's to country legends can be seen on streets, and in the Grand Ole Opry, in Nashville, to the streets, buses and in the many country and western karaoke bars of St. Lucia. The sonic excellence is loved by all, with sounds that mix with rock, pop and hip hop. From Mexico to Guyana, Nunuvat to Wyoming, Toronto to LA, the sound continues to reach new and old audiences alike. Join us in a discussion that talks about how country music has evolved over the course of the 20th century, where it is now, and where we see it going.
Keynote: Sharon Hinds - Rogers Media
Moderator: Morgan "MJ" James - Bell Media
Panelists: To be announced
Seminar 3: "Royalties Round Up: The Big Picture"
This panel provides CCMA members with a rare opportunity to hear directly from all Toronto-based royalty collection organizations simultaneously. Representatives from SOCAN/SOCAN RR, CMRRA, ACTRA/RACS and Connect Music Licensing will be on hand to speak to their specific roles on behalf of rights holders. If you're a songwriter, music publisher, feature/non-feature performer on a recording, master recording owner, or any combination of the aforementioned, we'll get your questions answered, fill in the gaps, and provide you with the confidence required to be in command of royalties administration.
Moderator: Vel Omazic - Canada's Music Incubator
Panelists: Jeffrey "Lord Quest" Nuamah - SOCAN/SOCAN RR Sundeep Chauhan - CONNECT Music Licensing Andrea England - CMRRA Andrew Karis - ACTRA RACS
Seminar 4: Feel Out Loud: An intersection of Mental Health and Music presented by Kids Help Phone
To launch Feel Out Loud, Kids Help Phone's movement for youth mental health, a collective of 50+ Canadian artists came together to record "What I Wouldn't Do (North Star Calling)". The powerful, star-studded anthem lets young people across Canada know there is no feeling too big, or too small, and invites them to reach out to Kids Help Phone anytime of the day or night for support.
Feel Out Loud: An intersection of Mental Health and Music panel will bring together mental health and music experts for a discussion on how young people connect with music to navigate difficult feelings. The discussion will include: The relationship between music and mental health, how music and the arts are helping lift the stigma on mental health issues, and more on why over 50+ Canadian artists came together to record an anthem for Kids Help Phone's Feel Out Loud movement.
Moderator: Sarah Burke - Indie88 Host & Women In Media Podcast
Panelists: Katherine Hay - President & CEO, Kids Help Phone Gayle Browne - Director, Clinical Operations, Kids Help Phone
Additional panelists to be announced
All the content is user generated, if you think this event is suspicious, please Report Event.