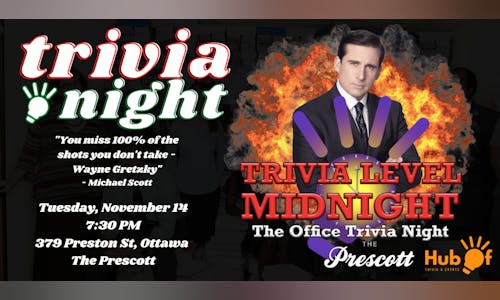 The Office Trivia - The Prescott
Nov 14, 2023
7:30 PM – 10:30 PM EST
379 Preston Street, Ottawa, ON, Canada
Organized by The Prescott
Share on
Join us on November 14th for The Office trivia, hosted by our friends at Hub of Trivia and Events. We've got new questions and prizes galore, so if you haven't won yet, here's your chance! Tickets sell out fast, so get yours today!
Date: Tuesday, November 14th Start Time: 7:30pm to 9:30pm Teams of: 1-6 people.
Please Note: Each ticket registered is valid for one (1) person. Please select the number of tickets for each person in your group.
Hosted by: Hub of Trivia and Events
TRIVIA DETAILS:
Charged phone is required to play
Doors open at 6:30pm.
First question is at 7:30pm SHARP
Four rounds, about 12 questions each
Compete for gift cards and wicked The Office themed prizes! The second and third place team will receive awesome prizes, too!
HOW TO REGISTER YOUR TEAM:
Tickets are $10.00 + HST per player
On Event Night, please register your team name with our staff
Minimum of 1 player and max of 6 players per team
All the content is user generated, if you think this event is suspicious, please Report Event.