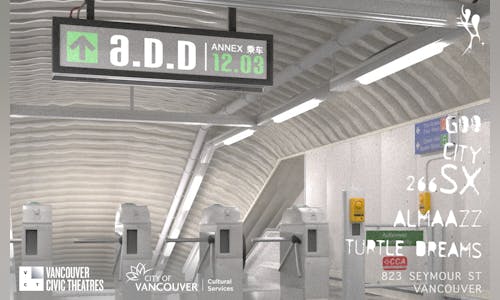 ADD- A DIFFERENT DIMENSION
Dec 3, 2023
7:00 PM – 10:30 PM PST
823 Seymour St, Vancouver, BC V6B 3L4, Canada
Organized by Normie Corp
Share on
On Dec 3, join us in A DIFFERENT DIMENSION. This evening of experimental sounds features 6 genre-breaking artists who will transport you to somewhere beyond our realm.
This event takes place at the ANNEX and is normie corp's first theatre production. ADD will feature haunting vocals, sleazy beats, soothing melodies, entrancing percussion, and more. The show is mostly seated, with options to lay down or dance in special areas.
The ANNEX is wheelchair accessible and has wheelchair accessible restrooms. The show takes place on the 3rd floor and is accessible by elevator.
Lineup: Goo (live) 266sx (live) Turtle dreams(DJ) Almaazz (live) City (live)
Visuals by Laine Butler Lights by Andie Lloyd
All the content is user generated, if you think this event is suspicious, please Report Event.